BIO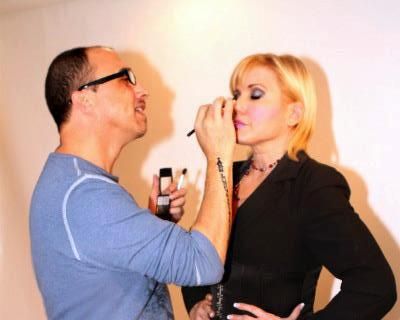 Makeup Artist - Anthony Baltazar
Equally at home singing R&B, gospel, house, pop, jazz and cabaret, Suzanne Palmer boasts impeccable credentials. The daughter of a jazz pianist, she grew up on Chicago's south side. By age sixteen she was performing professionally. She has appeared on albums with Angela Bofill, Jeff Lorber and Terry Callier. Earth, Wind and Fire's Maurice White signed her to a solo recording project after hearing her winning performance on New York's nationally televised Show Time at the Apollo. Palmer toured Europe with the Victory Singers, a renowned Chicago gospel choir. In Poland, at the prestigious Sopot International Pop Festival, she competed against singers from sixteen countries to win the Best Solo Vocalist award. She appeared on The Oprah Winfrey Show, accompanying Gloria Estefan on her 1996 Olympic Games anthem, "Reach." The February 1998 issue of Jazziz magazine declared Palmer a winner in its talent search for "Voices of the New Jazz Culture.
Suzanne first ventured into House Music as the featured vocalist on The Absolute's Tribal UK release, "There Will Come A Day," written and produced by Mark Picciotti and Craig Snider. Their follow-up, "I Believe," earned a Gold Record in the UK.
After signing as a solo artist with MCA/Twisted America Records, she embarked upon a successful partnership with Grammy Award winning producer/DJ Peter Rauhofer, on the Club 69 album, Style, which yielded three hit singles for Suzanne – "Much Better," "Alright," and "Muscles" - and firmly established her as a major star in the club music scene.
In 1998 Suzanne began writing and recording at the Vienna studio of production team Beat 4 Feet. The resulting tracks reflected a stylistic diversity and emotional range rarely found - let alone handled with such confidence - by an artist. Rousing dance floor numbers such as the inspirational house anthem "Stand Up!" and the classic, disco-drenched "It's My Life" and "The Rhythm Goes On," offset smoldering ballads like "So Much For Promises" and "If I Had To Do It All Again," the Chaka Khan-esque "Good Good Lovin'," the techno-soul grooves of "Eyes Of A Broken Child" and "Lonely Is The Night," the sultry mid-tempo jams like "Love Will Be The Key," and "One For Me."
Suzanne reunited with producer/DJ Peter Rauhofer in 2001 to record "Hide U" for Rauhofer's own Star 69 label. It began topping the DJ playlists as soon as promo copies were circulated, and rapidly broke into the Billboard Club Play chart's top 5.
Her subsequent collaboration with master trance DJ Tiesto produced the break out smash for Black Hole Records, "Flight 643/Love's on Fire."
In 2004, Suzanne teamed up with Chicago's House Music legend Ralphi Rosario to write and record the song, "Remembering You," released by Cassa Grande Records.
Working with Peter Rauhofer, as executive producer, and a team of creative and cutting edge producers, writers, and remixers, including Anthony Acid, Peter Bailey, Beat Hustlerz, Blue Room, Dezrok, Cevin Fisher, Fred Jorio, Eric Kupper, Angel Moraes, David Morales, Offer Nissim and Orange Factory, Suzanne celebrated the release of her full length CD, Home, for Star 69 records, in 2005. Top club singles from the album include "Sound Of The Drum," "Show Me," "Free My Love," "Fascinated," "Home" and "Luv 2 Luv."
Suzanne embarked upon a new project with DJ/producer Bill Bennett, resulting in the 2008 release of their remake of the classic, "Fame," along with Suzanne's very first music video. Following that, she worked, once again, with Peter Rauhofer on a cover of the classic, "Big Love," and traveled to Israel to record "You Stepped into My Life" with Offer Nissim.
In 2012, Suzanne entered into an exciting partnership with Chicago producer, writer and singer Georgie Porgie. Her first single on Music Plant Records, "Keep On Keepin' On," was released in the Spring of 2012, followed by "Joy" in January of 2013. Their third single, "Surrender," was released in March 2014. Upon their releases, all three songs went immediately to number 1 on Kings of Spins, as well as to the top of the iTunes dance sale chart.
In 2017, Suzanne was profiled in a chapter of author James Arena's book, Stars of 21st Century - Dance Pop and EDM.
Suzanne collaborated with 2020 Grammy Award winning DJ/producer Tracy Young and producer Craig Snider. The results of their efforts, the singles "Let It Go" and "Get 'Cha There", were released on Ferosh Records in 2018, setting dance floors around the world on fire.
Most recently, Suzanne reunited with songwriter /producer/DJ Mark Picchiotti.  Their collaboration, the track "Love Reaction", was released on Nervous Records in December 2020.
Always in demand for her soulful and dynamic live performances, Suzanne works a crowd like no other. She has electrified audiences as a featured artist at major venues and festivals throughout the world: Gay Pride, Sao Paulo, Brazil; Gay Pride, Manchester, UK; Homesexual, Sydney, Australia; Toronto Pride, Ontario; Montreal Pride, Quebec; New York City Pride; Mexico Pride, Mexico City; Chicago Pride; Seattle Pride; Portland Pride; Gay Days, Orlando, Florida; Winter Party, Miami, Florida; White Party, Palm Springs; Black and Blue Military Ball, Montreal, Quebec; Halsted Market Days, Chicago; and Folsom Street Fair, San Francisco; as well as circuit parties and clubs in cities including Los Angeles, New Orleans, London, Edinburgh, Paris, Brussels, Rome, Tel Aviv, and San Juan.